In our last blog post, we introduced our in-house CNC machine center, a recent addition to our offerings. This time around we're highlighting another of our in-house capabilities: UV printing.
In-house UV printing has been an exciting addition to our offerings. It allows us to quickly and easily add high-quality branding to our custom enclosures and other products, giving you the opportunity to create your own unique products.
Why We Offer In-House UV Printing
In the past we utilized screen printing, which was done externally. Sending products out for printing caused a disruption in our in-house production process, as we had to complete a product to a certain point, then send it across town via courier to be printed. Once we got the product back, we then completed the final assembly in house. This process took days to complete and incurred the cost of a courier both ways.
Then a couple of years ago, we decided to explore recent updates to branding technology and discovered UV printing. We were excited about the possibilities that having this capability in house could offer, and decided to purchase a state-of-the-art Roland UV Printer and integrate it into our facility.
This machine takes screen printing to the next level. It allows for multiple layers of printing to provide depth and texture — it can even create braille! Standard silk-screening requires a screen for each color, so gradient coloring is extremely expensive and difficult to create. With our UV printer, we can easily do gradient coloring across the entire color spectrum.
This new capability has saved us time and money, given our branding an elevated look and feel, and created a demand for business that we hadn't had before. Our UV printing process has since been deployed on products across the globe and in nearly every business sector.
Top 3 Benefits of UV Printing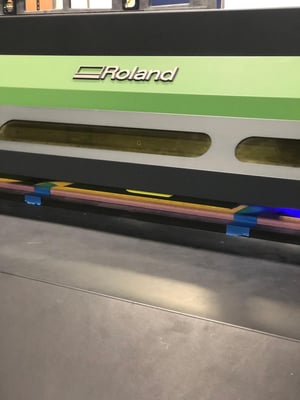 In addition to saving us time and money, this type of printing has a number of other benefits. UV printing is fast, flexible, and results in the highest quality printing on the market.
Fast. UV inks are used in place of typical solvent-based inks and are dried using ultraviolet lights. This results in fast curing: the ink dries almost immediately. This means no more waiting for the ink to dry before packaging a product or moving on to the next print project.
Flexible. With UV printing, we can print on almost any material, including nonporous materials like plastic, glass, and metal. This flexibility opens us up to a wide variety of uses. Essentially, if the material fits into the UV printer, we can print on it. And unlike traditional screen printing, a large format UV printer easily allows for color gradient in any design, image or brand. Plus, there is no need to shoot screens when an image changes with the UV printer.
High Quality. UV printers allow for vibrant, crisp printing with an array of coatings and a nicely finished look. Because UV inks sit on top of the printed surface, rather than being absorbed into it, the result is much sharper and crisper than traditional printing. Plus, UV printing is extremely durable. It's more resistant to scratches, wear and tear, and sun exposure than other printing processes.
With all of this plus the time and cost savings we've experienced, you can see why a UV printer was a great investment.
Brand Your Custom Enclosures With UV Printing
At SySTIUM, we offer the option of branding your custom computer enclosures and other products.
Many companies prefer branded components so they can have their own unique product. Branded components like this are identifiable by their name or logo and stand out in a server rack.
We can help you design effective branding solutions to transform our product solutions and designs into your unique product. Using our in-house UV printing capabilities, we can create custom computer chassis, as well as custom bezels, branded packaging, retail packaging, product labels, and more.
If you'd like to explore adding branding to your custom enclosures, contact us to learn more.