When it comes to choosing technology enclosure solutions for your electronic devices, you need high-quality, long-life products that are cost-effective and meet the specifications of your devices. Off-the-shelf solutions rarely provide for the specific needs of your unique product, and it can be difficult to find cost-effective custom solutions.
At SySTIUMⓇ, our mission for more than 20 years has been to provide high-quality, cost-effective products and services that enable our customers to more efficiently design and integrate their technology-based products. When you work with SySTIUMⓇ, you benefit from:
High-Quality Long-Life Technology Enclosure Solutions
With all of the time, energy, and money you invest into designing and building your products, the last thing you want is to settle for an inferior enclosure that doesn't meet your specifications. At SySTIUMⓇ we are committed to meeting or exceeding each customer's need for the highest quality technology enclosures. Our cost-effective enclosures are made for long life, and we work to continuously improve both our products and our quality management system to ensure we always offer our customers the best.
We offer a variety of products to suit your needs, including:
MotherBoard Ready™ Platforms

. With MotherBoard Ready™ Platforms, we've done the system engineering and validation for you, ensuring computers built with our platforms are reliable in the field, meet regulatory requirements for IT equipment, and can be manufactured over an extended period of time. Available in a wide selection of form factors and multiple certification levels.

Express Enclosure™ Solutions

. Our Express Enclosure™ Solutions are modifiable, pre-designed solutions that help speed your time to market and lower your product development costs. Designed to be customer specific and application ready, these enclosures can be used as is or modified to suit your application requirements or component specifications.

Accessories and Building Blocks

. We offer a wide variety of accessories and building blocks to complement our technology enclosures, including power supplies, cooling solutions, rack accessories, hardware, cables and harnesses, riser boards and PCB modules, and more. All of these products are offered as spare parts or as standalone components.
Custom Enclosure Solutions to Suit Your Unique Specifications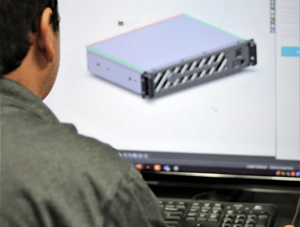 The right enclosure is critical to the success of any electronic device, and it can be difficult to find off-the-shelf technology enclosures that suit your product's specific needs. That's why we've been developing custom enclosure solutions built to your specifications for more than 20 years.
Buying off-the-shelf enclosures often means making concessions that result in additional work to assemble the finished product. An enclosure with an ideal fit combines functionality, cost-effectiveness, long life, and safety to ensure the long-term success of your end product.
With SySTIUMⓇ, you no longer need to modify off-the-shelf products to get what you need: we create custom solutions to meet your product's exact specifications using robust, fully documented materials. Our convenient building-block approach makes enclosure design and product development simple, bringing your concept to life quickly and efficiently. Using our fast, cost-effective, traceable manufacturing process, we create robust enclosure solutions tailor made for your project.
In addition, controlled revision changes allow for minimal material exposure and our scalable manufacturing solutions mean we can easily ramp your projects up or down while maintaining consistent costs.
Save the time, energy, and money you would normally spend modifying off-the-shelf products with our custom-designed solutions built to your device's specifications.
Quick-Turn Prototypes to Get Your Project Done Faster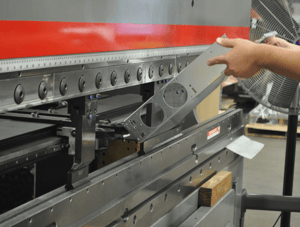 A prototype is a valuable part of the product design process. It shows you how the end product will look and what needs to be adjusted for all of the parts of the product to fit correctly. This allows you to more easily make necessary changes as the solution is being defined.
With SySTIUMⓇ's quick-turn prototyping capability, there are no more long waits for prototype turnaround, meaning you can complete your project sooner and get your finished product to market faster.
Our ability to quick-turn prototypes allows us to design and deliver custom parts in as little as a few days. What's more, in most cases we don't charge NRE fees for custom prototypes — a rarity in our industry.
In the Spring of 2020, our quick-turn prototyping capabilities came in handy when the U of M wanted to build low-cost ventilators for COVID-19 patients. We jumped at the chance to create the low-volume prototypes they needed to build the ventilators, and ended up producing three parts used as bushings or gears to aid in the ventilator's function. You can learn more about our work with the U of M here.
A Wide Range of Capabilities to Take Your Concept From Idea to Finished Product
At SySTIUMⓇ, we assist you with everything from concept discovery and CAD design to prototype integration, rev control, EOL management, and more:
Utilizing CAD and CAM, we design the initial 3D model of your product, create the prototypes you need, and manufacture your end product.
With state-of-the-art CNC laser equipment, we create custom brackets and adapter assemblies using a variety of metal gauges and materials.
We design and supply the cabling and harnessing required to effectively and efficiently integrate your products' component and human interface requirements.
We have extensive lab-based experience validating and certifying computer products and other technology devices, and we keep abreast of the ever-changing worldwide regulatory requirements for ITE products.
We design, test, and deliver packaging solutions that ensure your product can be safely transported.
We can even help you design effective branding to transform our solutions into your unique product. We can create custom bezels, branded packaging, retail packaging, product labels, regulatory labels, and more.
With our wide range of capabilities, not only are we able to provide the utmost in quality technology enclosures for your product, we can help you get your product on the market faster...meaning increased profits for you.
Contact us today to learn more about how our technology enclosure solutions can help you build a better product faster. We look forward to working with you!